G. B. Memorial Institution was established by Late Samar Mitra, an eminent social worker, with the aim of expanding quality education facilities among all sections of the people living in the vast areas of Behala. The school started as a Nursery and Kindergarten school in 1983.
Under the able guidance of Smt. Bhagabati Mitra, the School has emerged as one of the largest and arguably finest English Medium Higher Secondary School in Kolkata from its humble beginning way back in 1983. The School takes pride in the fact that although it has seen tremendous growth over the years, it still retains the human and personal touch which makes it special for all its students. The School today boasts of thousands of proud alumnis who have done well for themselves globally, based on the solid foundation that they developed here.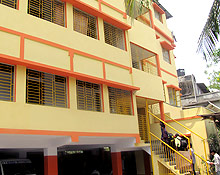 The school was first recognized by West Bengal Board of Secondary Education as a Junior High School. From there on, the School progressed steadily, with its students doing well for themselves, and the School also getting recogniztion by the respective Boards. The School was then recognized as a Secondary (Madhyamik) School and then the Higher Secondary (Uchcha Madhyamik) recognition for Science, Arts and Commerce streams followed.
Over the years, students of the School have put up exemplary performance in the respective Board examinations, earning laurels for themselves and the School.